ION 2017 Kite Waist Harness Madtrixx
Many in stock
48702-4707
---
Delivery Time Is 1 - 5 Working Day(s)
European Union Delivery Time Is 1-2 Working Day(s)
UK Delivery Time 1-2 Working Day(s)
USA Delivery Time 2-3 Working Day(s)
Canada Delivery Time Is 2-3 Working Day(s)
Australia Delivery Time Is 2-3 Working Day(s)
New Zealand Delivery Time Is 2-3 Working Day(s)
Switzerland Delivery Time 1-3 Working Day(s)
Turkey Delivery Time 2-3 Working Day(s)
You will receive the information about the delivery dates to other countries once you have chosen your favoured country of dispatch.
FREE Shipping EUROPE from 99 €
FREE Shipping Rest of World 199 €
Product Infomation
Details ION 2017 Kite Waist Harness Madtrixx
Features
KEY FEATURES
Neo_Belt: Improved flex, twist and comfort NEW!

KEY Silc_Edge: prevents the harness from riding up (NEW!)

3D Contour Shape: A technique specifically designed to provide a perfect fit and support to the upper and lower part of the back through differently shaped segments of the harness.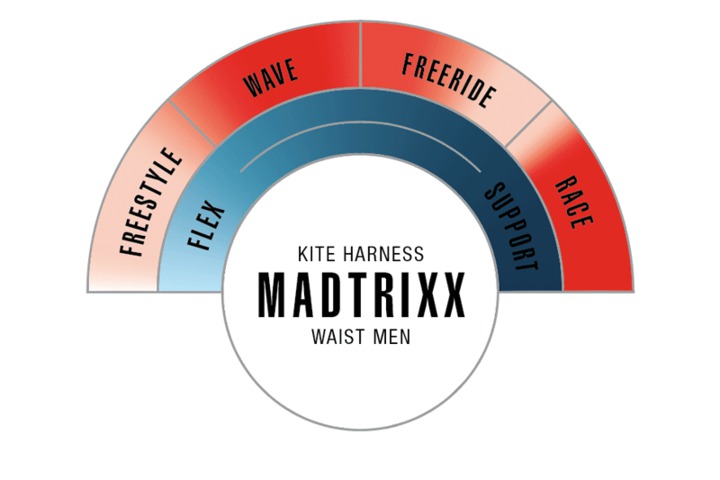 LINE CONCEPT
The name says it all, look at Airton Cozzolino! The MADTRIXX is well suited to wave riding fanatics as it doesn't ride up thanks´s to the developed Silc edge. The refined Neo_Belt provide huge freedom of movement, whilst the Cross_Link feature ensures a comfortable and effective load distribution across the back.
CROSS_LINK
Reinforced webbing crossed-over for effective load distribution across the back.