UNIT D/LAB
WAVE & DOWNWIND / JUMPING & FREESTYLE / FREERIDE
The ultimate Wing machine is here - Unit D/LAB
FLIES ON THE LEASH
FLIES ON THE LEASH, NEUTRAL AND EFFORTLESS ON THE WAVE. While surfing and during downwinders, the Unit D/Lab follows intuitively, is light, and is stable when held on the front handle.
LIGHTEST WEIGHT
MINIMAL WEIGHT AND MAXIMUM PERFORMANCE ALUULA FRAME. The ALUULA LEADING EDGE AND STRUT MAKE THE UNIT D/LAB EXTREMELY PERFORMANT AND ABOUT 15% LIGHTER WITH ABOUT HALF THE WEIGHT OF STANDARD DACRON AND ABOUT 50% HIGHER STIFFNESS.
POSITIVE LIFT
EASY FOR TACKS, LIFTY FOR JUMPS, POSITIVE LIFT OPTIMIZED CANOPY TENSION AND TWIST WAS POSSIBLE DUE TO THE MORE SEGMENTED LEADING EDGE AND PANEL LAYOUT, RESULTING IN A POSITIVE LIFT EVEN THROUGH GUSTS.
DIRECT CONTROL
HANDLES THAT ARE RIGID FOR DIRECT CONTROL WITH DIRECT STEERING AND A GRIP RANGE OF 26 CM PER HANDLE, OUR UNIQUE LIGHTWEIGHT SCREWED-ON HANDLE SOLUTION PROVIDES BOOM-LIKE CONTROL AND COMFORT. STILL PARTNERED WITH EASY PACKAGING AND SIMPLICITY OF PUMP-AND-GO.
OPTIMIZED WINDOW LAYOUT
REDUCED WEIGHT WITH AN OPTIMIZED WINDOW LAYOUT FOR SAFETY AND COMFORT. The new window position provides better visibility, more safety, and a smaller window area all at once.
GREAT STABILITY & UPWIND ABILITY
THE STABLE PROFIE WITH MODERATE DIHEDRAL AND EXTREMELY RIGID LEADING EDGE AND STRUT OFFERS A GREAT DEAL OF DRAFT STABILIT, POWER GENERATION AND DIRECT RESPONSE ON ALL COURSES WITH EXCELLENT UPWIND ABILITY.
| SIZE | 3,5 | 4 | 4,5 | 5 | 5,5 | 6 | 6,5 |
| --- | --- | --- | --- | --- | --- | --- | --- |
| WINDRANGE (KTS) | 15 - 35 | 12 - 30 | 10 - 28 | 8 - 25 | 7 - 22 | 6 - 20 | 5 - 18 |
| WEIGHT (KG) | TBC | TBC | TBC | TBC | TBC | TBC | TBC |
| MAX INFLATION PRESSURE * | 8 | 7,5 | 7 | 6,5 | 6,5 | 6 | 6 |
| CONTROL UNIT | 2 HANDLES | 2 HANDLES | 2 HANDLES | 2 HANDLES | 2 HANDLES | 2 HANDLES | 2 HANDLES |
| REC. LEASH SIZE | 4'' (M) | 4'' (M) | 4'' (M) | 5'' (L) | 5'' (L) | 5'' (L) | 5'' (L) |
TECH FEATURES
DUOTONE UNIT D/LAB
WING GEOMETRY UNIT D/LAB
Tight canopy tension and finely tuned wingspan for powerful and direct power delivery, better drift stability, more lift and extra hang time.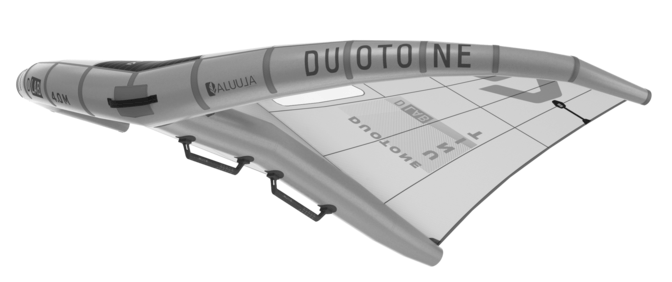 TIGHT CANOPY TENSION UNIT D/LAB
Tight canopy tension with minimal flutter and stable draft position.
Aluula leading edge and strut for minimal weight and maximum performance. About 15% reduction in weight (entire wing) and about 50% higher stiffness.
Unique lightweight rigid handle design offers boom-like comfort and control with direct steering and a grip range of 26cm per handle.

Optimized window layout for safety and comfort with a reduction in weight.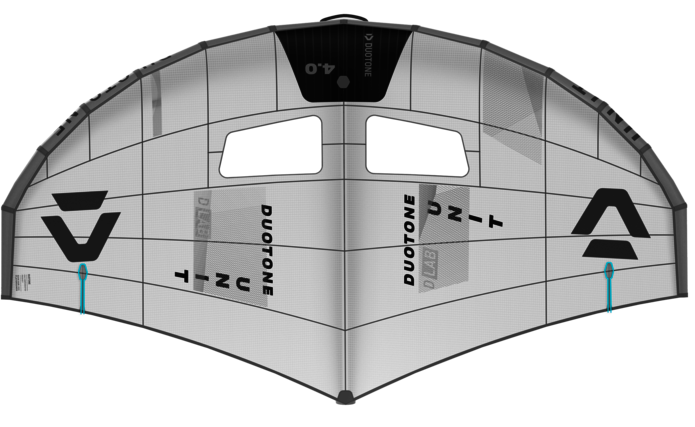 Forget everything you believe you know about wings because the Unit D/LAB has come and redefines wing design. The performance of the Unit D/LAB will astound you because it is 50% more stiff and 15% lighter than the original Dacron version.
This newest product defies convention, has the coveted D/LAB name, which is synonymous with cutting-edge innovation and technology, and pushes the frontiers of what was previously thought to be possible. The Duotone Laboratory uses the most innovative materials and design strategies, forgoing material and development costs in favor of creating the best product they can.
The first upscale wing to emerge from the Duotone laboratory is the Unit D/LAB. By using the most recent Aluula fabric in conjunction with innovative design elements, the weight is decreased and a whole new benchmark for lift, flex, and reaction is created. The Unit D/LAB isn't just a lighter variation of the Unit; the performance has been greatly enhanced, enabling you to take off earlier thanks to more grunt.
Even in light winds, your acceleration will be better, and your upwind angles will be higher. With the larger sizes, foiling is achievable in almost little wind while being able to fly higher, with greater hang time for jumps and additional lift throughout transitions. The wing generates remarkable levels of lift and power even in the tiniest breeze.
When riding waves and swell, the Unit range is designed for stable and smooth drift. The Unit D/LAB excels across disciplines, from surfing waves, sending jumps, to freestyle and freeride, thanks to the comfort and control of our new rigid grips mixed with the added grunt and lift of the wing.
The Unit's D/LAB variant is unquestionably the greatest wing you can get.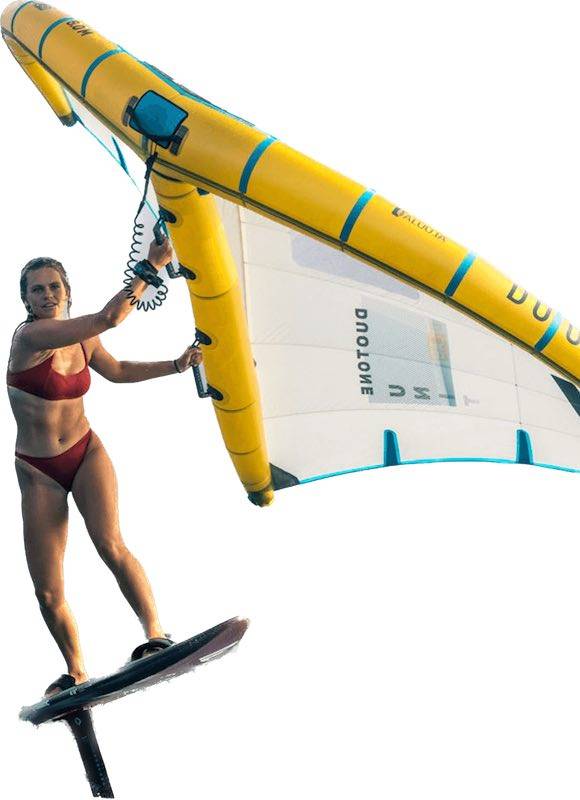 Frequently Asked Questions
Do i need boom for this wing?
No. Wing have plastic grab handles.
In comparison to typical structures, the new Aluula fabric and unique construction characteristics can lower the weight of the wing by up to 15%, depending on size. When the wind is weak, this is a significant cost savings, but our D/LAB wings also have other advantages.
Difference Dacron VS D/lab?
The performance of the Unit D/LAB will astound you because it is 50% more stiff and 15% lighter than the original Dacron version.
How much lighter is wing?
Around 15% lighter then unit with dacron material and 50% higher stiffness when compared to the original Dacron version